Do not stare directly at void. If void begins to glow, seek shelter immediately.
The stories of the week are tied together, in some way, with the absence of law or policy — a policy void. Policy void is the state where something — in these cases, some kind of socio-technological interaction — is not regulated by the government. During that time, individuals, companies, and organizations are free to do whatever they want in that space with little or no legal repercussions. The social, business, and other effects of these actions is another story.
Take RFID for example. No law has been written (at least not that I know of) to regulate the use of these devices. Companies have rolled them out into products, like Gillette who put RFID tags into razors and then took pictures of people who bought them. It was completely legal for Gillette to do that, but they felt the repercussions afterwards from people concerned about their privacy and that use of RFIDs. The US Government is putting RFIDs into new passports, which has some security experts worried that malicious people could retrieve the data contained in those chips. How will incidents like these shape the laws that will undoubtedly be written in the future to regulate RFID use?
Keep that example in mind with these other stories which have their own policy void implications.
Word of the day: pseudonymous
The facts of this case really terrify me. If you make harsh public comments about your employer (or let out a company secret) and they find out, you deserve to be fired. That, in a word, is stupid. Yeah, I'll cut out an exception for whistle-blowers and other extenuating circumstances. However, if you make those kinds of comments and expect to get away with it, you are deluding yourself.
Take the case of an employee at some random company. He degrades his employer, including the 'n' word, and gets fired because of it. Big whoop, right? Not exactly. This guy posted those comments on a Yahoo message board using a pseudonym — a name which included his company's stock symbol. The company saw those comments, sued "John Doe," then subpoenaed Yahoo to disclose the poster's identity. A month after getting his identity, the company dropped the suit and fired the guy.
Again, I have no problem with an employee being fired for badmouthing his employer publicly. You just don't do that. However, I have a real problem with this case. It sets a bad precedent that any company can subpoena the identity of any pseudonymous Internet user, like our now unemployed Yahoo user. The company defended its actions saying they had to determine whether the poster was a "high-ranking employee" of the company. Does that matter if he had been one or not? (He wasn't.) What if it was some poor slob who owned stock in the company and was only complaining about its fall from $50 to $10 a share, looking for catharsis? What if the person was unrelated to the company altogether and was making up those comments? Could they have identified the guy without sending Yahoo a subpoena? Could Yahoo have refused to turn over the identity of the guy?
Now this unemployed fool is suing his ex-employer for wrongly using a subpoena to unmask his Yahoo identity. I don't know how he'll put this on his resume, but a quick search in Google for his name will turn up this story, and that doesn't bode well for his future employment prospects. Who would hire an employee that's going to trash talk the company he works for?
As long as companies can subpoena the identities of anyone using Yahoo, MySpace, Blogger, AOL Instant Messenger, or any other Internet service just because they said something nasty, the Internet will be a much colder place for everyone. In short, we need better privacy laws.
MS Pushes Crack Privacy
As much as I've been critical of Microsoft in the past, they're really on to something now. First, they just announced their plans to unite many of their services and make them available online, including MS Office, XBox Live, and more, showing that MS might actually get this Web2.0 thing. Also announced this week, MS is pushing Congress to enact federal privacy laws which would include, among other things, improved transparency about how your data is used, who it's shared with, and standards for its secure storage and transportation.
Of course MS has an interest in this, and I'm certain that they would love to see some of their security technology become part of new federal data privacy standards. Remember that US citizens have no explicit right to privacy — just a kludge of privacy-like rights regarding your health information, financial data, and who you're fucking. As Sun CEO Scott McNealy famously told reporters years ago, you have no privacy so any improvement is a win for consumers, right?
Unfortunately, we've already seen what happens when we have no laws regarding the privacy of our data. (I have more links but you get the point.) The funny thing is that the EU countries have a guaranteed right to privacy, but it comes with its own pains like the trouble GM had making a phone book that included the numbers of their European employees. Privacy is something that gives individuals confidence in commerce and in their everyday lives, and I would welcome any step in ensuring digital privacy rights as long as those laws let me badmouth my employer on Yahoo message boards.
And by the way, my privacy is still for sale. Cheap.
Dibs on the one where the guy goes to sleep for 30 years and wakes up and tries to reclaim his life… oh… it's taken already?
The US Patent Office published the first of what will certainly be thousands of storyline patents — a patent on, you guessed it, the storyline of a novel, play, movie, or whatever. As my former Professor Braunstein taught me, there was a guy who once invented a new kind of novel. It had to do with espionage and governments and military and they sold really well. However, Tom Clancy does not have the right to sue other people who use espionage, governments, and military as the primary elements of their novels.
Patents have gotten a bad rap lately. With patents for online shopping carts, tire swings, or html links, it's easy to complain about the USPTO. You can look for your own opinion about why this is happening, but I think it's mostly because of the huge growth of patent applications and patents granted in the last 20 years. More patent applications means more crap will get through. I wonder if the USPTO's staff has increased in the same proportion to the number of patent applications.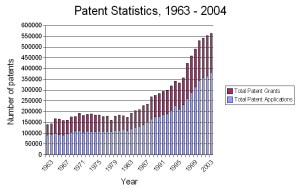 Anyway, the beauty of copyrights is that they're really narrow so infringing a copyright is really hard to do without outright plagiarizing a work. These patents seem to flip that on its head, so that anyone can patent a plot then go nuts suing everyone who even comes close to it. This is wholly the realm of copyright law. Anyway, I can't see how this promotes the progress of science and useful arts at all.
The patent has not been accepted yet, and I can only hope it's rejected soundly (which will almost certainly result in a lawsuit, which I can only hope gets dismissed too). As a post-modernist friend of mine said, there are only three kinds of novels anyways — man vs man, man vs nature, and man vs himself — so doesn't that mean that every story is unoriginal?
If the patent does get accepted, I'm going to patent a story about a man who gets into an altercation with an animal, then another man, then himself, and once I have the patent I'll file my first lawsuit against Ann Rynd because her writing sucks. And then I'll go after the estate of L. Ron Hubbard and see if I can shut those Scientologists up once and for all.
I've changed my mind. I do want storyline patents. And I want them all.